Pastor H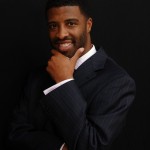 andy was born May 28th to August and Barbara Handy in the small city of Plaquemine, La. He has 2 brothers Jeffrey August and Gerard Gustave Handy. He received Christ at a very early age at the Pilgrim Rest Baptist Church under the leadership of Pastor W.L. McNell.
Occupied
Get your copy of Pastor Handy's 1st book "Occupied". Click the button below to order.
Just as tragedy opened the door for Isaiah to see the Lord, the same thing happened to Pastor Handy in July of 1994. He accepted his calling to preach the gospel on October 16, 1994 (his father's birthday), and was ordained within a year and finally called to Pastor within 3 years. Pastor Handy started serving Mt. Zion in 1997 and became the Pastor in 1998. He would later become Pastor of the New St. John B.C. at the appointment of its former pastor, the late Rev. Levy Warner until his resignation.
When the new Millennium hit the Lord gave birth to new things in the life of Pastor Handy.  It was a new season in his life and that of Mt. Zion Baptist Church. Under Pastor Handy's leadership, the Mt. Zion Baptist Church II became the fastest growing church in the city of Plaquemine and grew to the surprise of many including Pastor Handy. In 2005, Pastor Handy led the Mt. Zion Church from a small plantation facility that they never owned to the Inner-City realm of Plaquemine and purchased the Belleview Racket Club and opened its Inner-City Location.
The heart of the ministry work of Mt. Zion Baptist Church II Inner-City would begin to show the heart of Pastor Handy. New ministries were created as Mt. Zion further showed they were no longer the small church of the city but a ministry of excellence.. Pastor Handy and the MZBCIC believe that great things can be done in a small city. Pastor Handy says "…either you will be influenced by the small mentally of your city or influenced by the greatness of your God. The product of your faith and work is a sign of who's influencing you."
In 2000 Pastor Handy became the husband to LaTroya Ware and the father to Sydney Jarve Handy. The third addition to the family would come later with their son Ricardo Leigh Handy, Jr.